Many homes and multi-housing facilities have decks as they have become a popular way of adding more space to a home; besides providing a place to relax outside, decks are wonderful places to entertain guests and enjoy outdoor dining, especially during the warm months.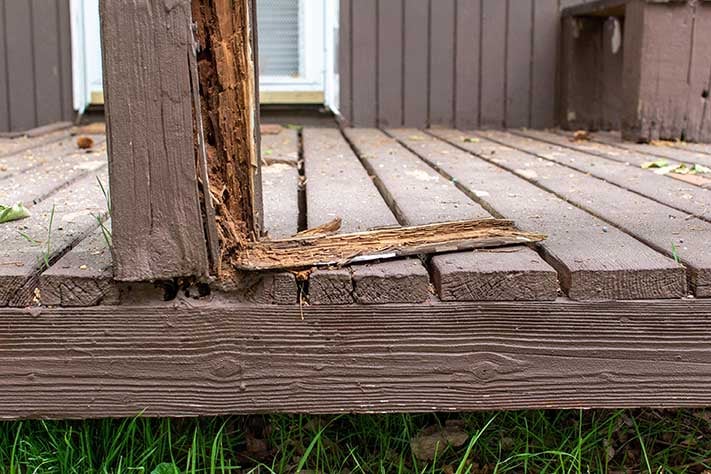 Like any other outdoor space, decks are prone to damage due to the effects of weather, and these damages can result in more serious problems that can end up compromising not only your safety but also your health. Some reasons why deck maintenance is essential include;
• Property value — A poorly maintained deck can decrease the value of a home, while a well-kept one improves the curb appeal thereof. Regular cleaning and maintenance is a sure way to keep your deck looking as good as new.
• Health and safety — Exposure to elements can lead to the growth of mold, mildew, and algae that can pose a danger to your health and safety. However, proper maintenance can make your deck a safe place to relax and unwind.
• Deck lifespan — Proper deck maintenance can help increase its lifespan and ensure it serves you longer.
Deck maintenance tips
To keep your deck well maintained, keep in mind the five basic checks;
• Check for rot
• Check the ledger
• Check joints and beams
• Check for cracks
• Check the railing and stairs
Now that you are aware of what to look out for when maintaining your deck, read on to learn the steps on how to keep it well-maintained:
Step 1: Inspect and prepare the deck
Always make sure to inspect your deck every year or two to identify anything that needs repair. Also, be on the lookout for protruding nails and loose boards, which, if not taken care of, might cause injuries and accidents.
Before cleaning or doing any repairs, remove the furniture and plants and then sweep the debris deck. Please make sure there are no children around when carrying out repairs as they may mess with tools and machinery and, in the process, get injured.
Step 2: Clean the deck
The next step in deck maintenance is cleaning, and this is where you use the required chemicals and solutions to get rid of debris and stains. First, use a powerful nozzle on a garden hose to remove debris clogging between deck boards. Once the board is clean and free of debris, use the required products to eliminate discoloration and stains.
Note here that products with a non-chlorine bleach base are more effective in getting rid of stains, while those with bleach-based products help remove mildew. Acid-based products are effective in eliminating graying and stains. If the deck turns out washed out after using a certain bleach, an acid-based restoration product can be useful in restoring the surface to its original state.
After waiting the length of time (as directed in the instructions) for the products to work, rinse the deck using a power jet. Remember that too much pressure can cause the grain to become exaggerated or even gouge out wood.
Step 3: Paint or stain the wood
To maintain the natural beauty of your wooden deck, use a clear or lightly stained polish as opposed to deck paint. However, if you choose to go with paint, stain-blocking oils are better as they do not produce a surface film and tend to soak into the wood. Solid stains or heavily pigmented paint aren't recommended for deck maintenance since they peel easily.
Step 4: Seal the deck.
Sealing is the last step of deck maintenance, and this is where you apply the sealant of choice using a brush or spray. While sealing, make sure to cover nearby plants to avoid damaging them. Moreover, opt for sealants with ultraviolet sunlight protection as they will help to protect your deck from direct sunlight.
Summary
Proper deck maintenance is crucial in keeping your deck looking great and ensuring it is safe to use for you and your family. With these tips, you have the necessary material to take care of your deck for guaranteed outdoor enjoyment.