2020 has been a challenging year for many of us, and as we continue to move forward and celebrate change, it's also to take a little time and celebrate the sweet things in life. Of course by that we mean PIE! Take your mind off of the heat and stress with these two "made for 4th" recipes.
Starberry Mini Pies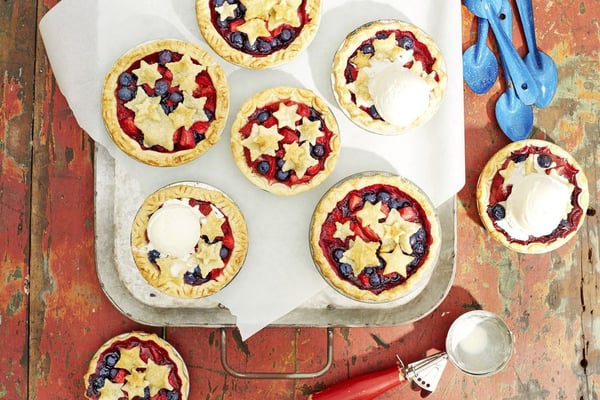 INGREDIENTS

1 (15-ounce) package refrigerated rolled piecrusts
Flour, for work surface
1 large egg, beaten
1/4 c. plus 1 tablespoon sugar, divided
1 1/2 c. fresh blueberries
1 1/2 c. fresh chopped strawberries
1 1/4 c. fresh raspberries
1 1/2 tbsp. cornstarch
Pinch kosher salt
Vanilla ice cream, for serving

DIRECTIONS

Working with one piecrust at a time, roll dough on a lightly floured work surface to 1/8-inch thickness. Using the stencil cut out 4 circles; reserve scraps. Repeat with remaining piecrust.
Shape scraps into a 1/2-inch-thick disk. Roll disk on a lightly floured work surface to 1/8-inch thickness. Cut out stars with cookie cutters, rerolling scraps as necessary.
Transfer dough rounds to pie tins; fold edges under to align with the rim of the tin; crimp. Place pie tins and stars on a baking sheet. Brush edges of dough and stars with egg and sprinkle with 1 tablespoon sugar. Chill 30 minutes.
Heat oven to 375°F. Toss blueberries, strawberries, raspberries, cornstarch, salt, and remaining 1/4 cup sugar in a bowl. Let sit, tossing occasionally, until juicy, 8 to 10 minutes.
Fill piecrusts with the fruit mixture (about a heaping 1/2 cup each). Place stars on pies as desired. Bake until fruit is bubbling and crust is golden brown, 30 to 35 minutes. Serve warm with ice cream.
Lemon Raspberry Rose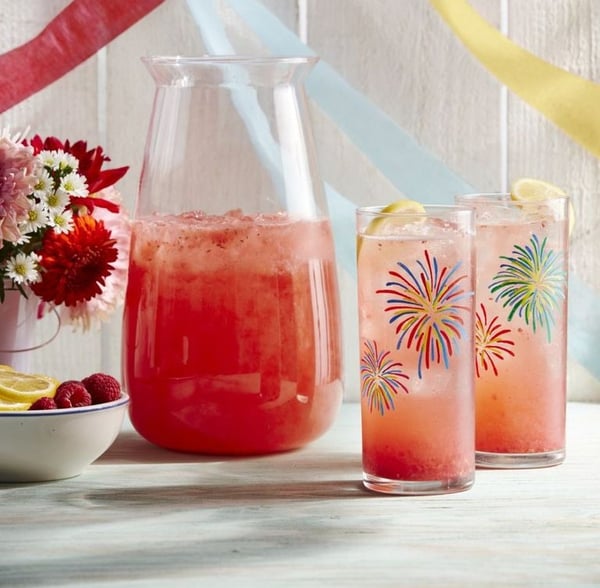 INGREDIENTS

1 1/2 pt. fresh raspberries
2 tbsp. sugar
2 tbsp. fresh lemon juice
1 bottle sparkling rosé, chilled
Sliced lemons and raspberries, for serving

DIRECTIONS

Smash raspberries with sugar and lemon juice in a pitcher. Top with sparkling rosé. Serve over ice with sliced lemons and raspberries.
Enjoy!!