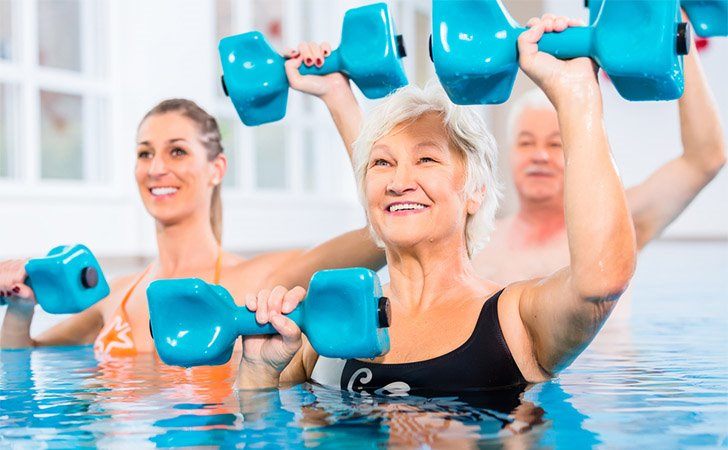 Active adult communities are developing creative ways to keep residents happy and healthy by maximizing the use of onsite pools. The buoyancy of the water provides a low-impact way for residents to exercise and to relax. Whether your community has an indoor pool, an outdoor pool, or both, stepping up use of the pool creates fun for everyone.
Health Benefits of Pool Activity
From basic swimming to water aerobics, pools provide a gentle way to exercise. Activities such as water yoga and Pilates can reduce stress and strengthen mental clarity. Other benefits of water-based exercise include:
Builds muscle
Increases cardiovascular endurance
Improves flexibility
Alleviates back pain
Improves posture
Pools, especially outdoor ones, are a fun place to gather with friends on a hot summer day. By providing shaded areas away from the sun and scheduling pool parties, associations increase community engagement. Relaxing with friends and meeting new ones is a great way to make summer more memorable for your community.
Types of Pools
For newer communities, the attraction when it comes to pools involves the pool style. As active adults seek more opportunities for staying healthy, they look for amenities like lap, Olympic-size, and resort style pools.
Many pools are adaptable for lap use during part of the day and open swim or classes other times of the day. Olympic-size pools are often rectangular in size and are the easiest style of pool to section into laps. Most Olympic-size pools are 164 feet in length and 82 feet wide. While they are commonly referred to as Olympic-size, most are smaller than a true Olympic-size pool.
Resort style pools are more decorative in shape and have features such as wide steps or waterfalls. These stylish pools are more for leisure and relaxing and are not well-suited for swimming laps. Resort style pools add ambiance to a community, with some even including Tiki bars!
Safe Swimming
No matter what activities you plan for your pool, you'll want to get the word out about them. Include special pool events in the association newsletter, on the website, and on social media. Always remind residents about safety rules and requirements regarding pool use.
Be sure to maintain the pool by monitoring water temperature and by using professional cleaning services. Have your maintenance department to check the pool daily for any hazards or problems.
Indoor and outdoor pools do create extra work for an association, however, the health and community benefits are well worth the investment. In addition to anticipating a pool onsite, residents will delight when there are additional pool perks, like exercise classes and events.
About GrandManors
The professional team at GrandManors understands luxury amenities and lifestyles. As an onsite property management company, we specialize in lifestyle oriented communities. We work not only with boards of existing management companies but also with developers of new ones.
We manage high-rise condos, age-restricted communities, and master-planned single family communities. At GrandManors, we take great pride in making associations successful.
Our professional staff cares about the community and the residents they serve. We go the extra mile to ensure that residents feel safe, happy, and engaged.
If your association is seeking a professional management service for your luxury community, contact us. We're happy to share more information about how GrandManors can help your community thrive.
Investing in professional property management for your association will not only retain residents but also attract new ones. A thriving community is an attractive one, resulting in increased property values and most importantly, community pride.
Let us help your association by reaching out today.